If you want to catch walleyes, there are few state spots better than the Mississippi River between the Ford Dam and Hastings.
Thursday morning, Griz and I were on the Mississippi, looking for walleyes but talking water moccasins. We found plenty of the former but none of the latter, though Ol' Griz knows they're there, the snakes, hitchhikers, he says, on barges coming upriver from New Orleans.
"I've seen 'em,'' he said. "On hot days, they coil onto logs and sun themselves. People don't believe me. But I'll bring one to the dock sometime.''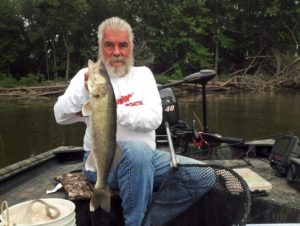 As Griz spoke, he impaled a fathead minnow onto an orange jig. The minnow could have been dead or alive. "It doesn't matter,'' he said. Nor does jig color, not much.
"What matters is how you present it,'' he said.
This was about an hour into our trip and already we had caught and released a dozen good walleyes, a couple pushing 5 pounds. Also we couldn't keep sheepshead off our lines and had picked up a sauger and a sunnie. This was beneath an unsettled gray sky patched with blue that hinted of the warming afternoon to come.
As a fishery, you can't beat the Mississippi as it flows through the Twin Cities and into Pool 2, between the Ford Dam and Hastings, where Griz and I fished.